Patrimalp Tools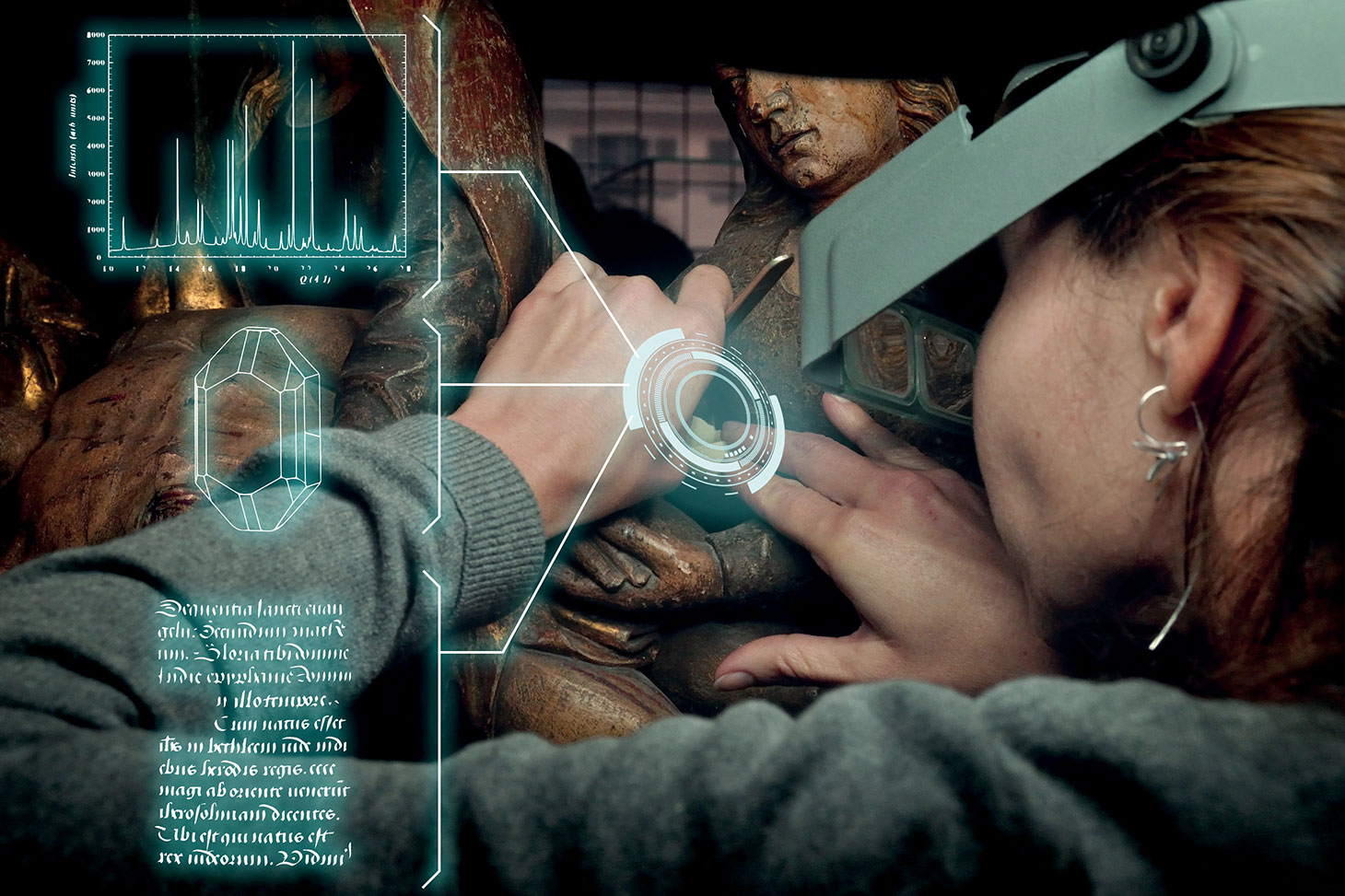 To develop and pass on to future generations an interdisciplinary science of heritage, in order to understand the heritage object in all its complexity using cross-disciplinary and innovative research methods without losing sight of the scientific challenges of each discipline
Supported by a scientific community of 9 laboratories of the UGA, strongly anchored in the Alpine territory, the project is based on the concept of "border (heritage) object", and develops objectives common to several disciplines: history, archaeology, history of art and ideas, material sciences, computer science; it aims to produce a renewed knowledge of heritage objects to improve their conservation, restoration and visibility by the greatest number. Patrimalp tools is particularly interested in the theme of colour, seen from an interdisciplinary perspective.
Challenges
The project intends to develop a scientific method and interdisciplinary knowledge of heritage objects through a cross-analysis between human sciences and experimental sciences. It aims to disseminate its results to the widest and most diverse audiences, in particular through close collaboration with the cultural actors of the territory. Making heritage living and accessible is one of its socio-cultural priorities.
Creation of interdisciplinary methods
Identification, development and promotion of a new object of study, the border object
Valorisation of the territory and the regional heritage
Interdisciplinarity
Patrimalp experiments in the field with collaboration between researchers from different fields of research - history of art and ideas, archaeology, materials science, computer science - by taking up challenges relating to the same object or concept - in this case colour - involving shared actions - interdisciplinary co-direction of theses in particular, and the use of common tools - Mobififf, ESRF, digital ontology, etc. The object is studied from the point of view of each discipline and by all the disciplines in a complementary perspective.
A transformative project
Patrimalp takes up the challenge of non-invasive, on-site (MobiDiff) and non-destructive (synchrotron imaging) understanding of heritage objects. The project uses the latest cutting-edge technologies with the help of AI for the processing of massive data. It collects decisive documentation (Pigment library of Alpine Neolithic colouring materials, stratigraphies of medieval polychromy...). The interpretation of this data, put back into context, aims to write a renewed history of science and technology, made available to those involved in heritage (curators, restorers) and society.
National and international reach
Patrimalp is as much a part of as it mobilises a recent scientific interest in the study of material heritage through a willingness to collaborate with old or emerging structures: at the national level such as the BnF, the OSUG, the FSP, OPUS Sorbonne University, the CAI-RN network, and at the international level with the UNITA network, an alliance of 6 European universities, and the E-Rhis.
For a better visibility of Grenoble
The project is part of the current renewal of heritage research and development on a national level. It is supported by existing and recognised networks. It is distinguished by a strong concentration of high-level research teams on the same site and the support of the two centres, ARC-Nucléart and ESRF. In the long term, it aims to make the Grenoble site a leader in research on the coloured matter of ancient cultural heritage objects.
Updated on February 28, 2023