Governance of the project
The Idex project has its own governance, consisting of a Steering Committee, an International Scientific Committee and 5 Executive Commissions.
The Steering Committee
The Idex Steering Committee ensures the strategic governance of the project and is chaired by its Principal investigator, Patrick Lévy. It is composed of representatives of the 10 partner institutions of the project.
The International Scientific Committee (ISC)
The International Scientific Committee provides an external view and advises the Steering committee on the strategic orientations of the project.
The 10 members of this committee meet annually to exchange with the Steering committee and make recommendations.
Composition of the International Scientific Committee
Maria ALLEGRINI, retired Professor of Physics, University of Pisa, Italy
Monica BARNI, Professor of Italian language, former President of University for Foreigners of Siena, Italy, and Vice-President of the Toscana region (ISC co-chair)
Elizabeth CANNON, President Emerita and Professor of Geomatics Engineering, University of Calgary, Canada
Charles ELACHI, former Director Jet Propulsion Lab (Nasa-Caltech) and former Vice-president of Caltech, USA
Katherine FREESE, Professor of Physics, University of Texas Austin, USA
Kristín INGÓLFSDÓTTIR, Rector Emerita of University of Iceland, Professor at Faculty of Pharmaceutical Sciences, Iceland
Peretz LAVIE, former President of Technion, Israel (ISC co-chair)
Stephen MORGENTHALER, Professor of Applied Statistics, EPFL, Switzerland
Sally-Jane NORMAN, Director of New Zealand School of Music, Victoria University of Wellington, New Zealand
Fieldon King ALEXANDER, former President of Louisiana State University, USA
The 5 Executive Committees (ComEx)
Regarding the operational governance of the project, the Steering Committee is supported by an Executive Committee (ComEx) for every field, each headed by an Executive Director (DIREX).
Each ComEX is composed of at least the Executive Director and one representative of each of the 10 project partners.
The 5 IDEX UGA main areas
Research and innovation (Executive Director: Hervé Courtois)
Education (Executive Director: Christine Chirat)
International relations (Executive Director: Karine Samuel)
Student life (Executive Director: Pierrick Bedouch)
Social and cultural outreach (Executive Director: Marie-Christine Bordeaux)
Organization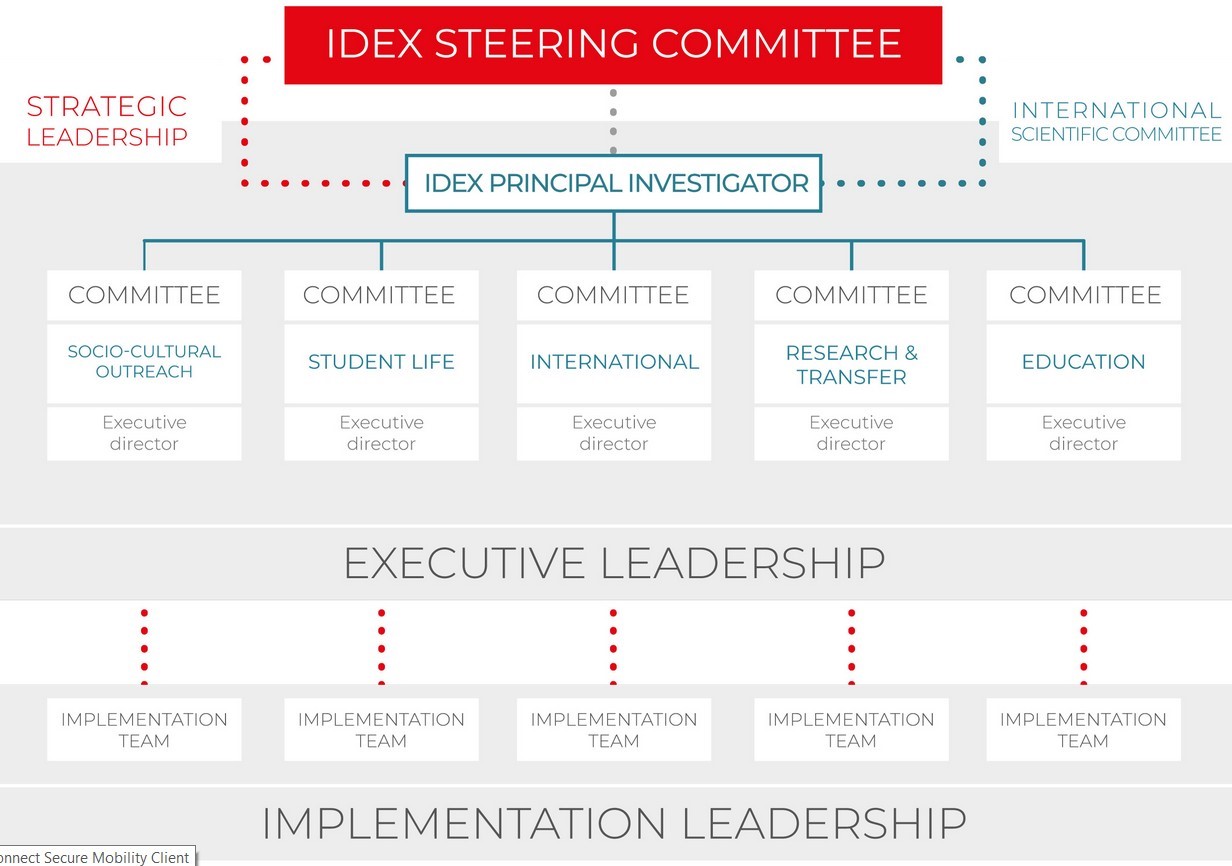 Published on July 21, 2020
Updated onApril 6, 2021