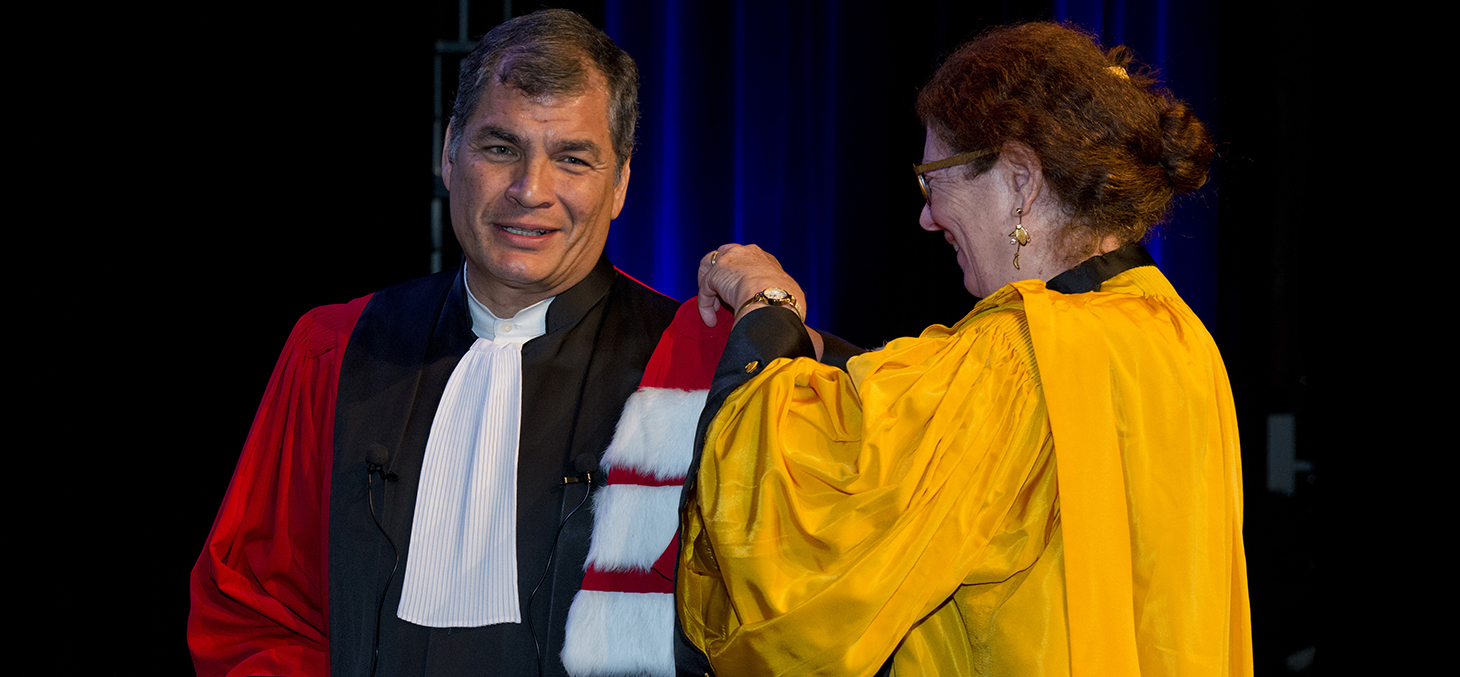 Ceremony, Accolade/Award
Abroad, The university in general
UGA awards honorary doctorate to Rafael Correa
Tuesday, November 7th, the UGA awarded an honorary doctorate to Rafael Correa, former President of Ecuador and internationally renowned economist.
During his visit, Rafael Correa also led a public conference:
Development as political process
. He drew on his experience in economic development in Latin America and his ten years as a head of state.
A distinguished academic career
President of Ecuador from 2007 to 2017, Rafael Correa is also a working economist. He began his training in his native Guayaquil, at the Universidad Catolica de Santiago de Guayaquil. He went on to finish a master's degree in economics at the Université catholique de Louvain in Belgium and a second master's and a doctorate at the University of Illinois in the US.

He has taught at the University of Illinois and the Universidad San Francisco de Quito, also publishing multiple works in the economics and political economy of Ecuador and Latin America. He has also worked as a consultant at the Japan Bank for International Cooperation and the United Nations Development Program.
A commitment to political equality
During his three terms as President, Correa was able to significantly reduce levels poverty and social inequality in Ecuador, bringing with these changes a new level of political stability. During his mandate, the minimum wage and the standard of living also increased.

Inspired by liberation theology, and by civil rights leaders such as Martin Luther King, Jr., Correa is committed to human development and the eradication of poverty. He favors a high degree of state intervention in the management of the economy: putting "the human being before capital".

During the Correa presidency, Ecuador increased its education and health care budgets, reducing levels of illiteracy and increasing the life expectancy of its citizens. In addition to programs meant to protect and assist vulnerable populations, Ecuador also invested in key sectors with an eye toward promoting economic growth.

In early 2007, Correa declared Ecuador's debt illegitimate, renegotiating the terms of Ecuador's external debt and reducing the influence of the World Bank and the International Monetary Fund on his country.
Ties to UGA research
In awarding Rafael Correa an honorary doctorate, the UGA recognizes his distinguished and innovative contributions to political development and to the discipline of economics.
The event will also reinforce and recognize the university's institutional ties, via is
CREG research center
, to the Pontificia Universidad Catolica del Ecuador Quito.
Watch the ceremony
Published on October 19, 2017
Updated on November 23, 2017