DU Pass: a university passport to support students in exile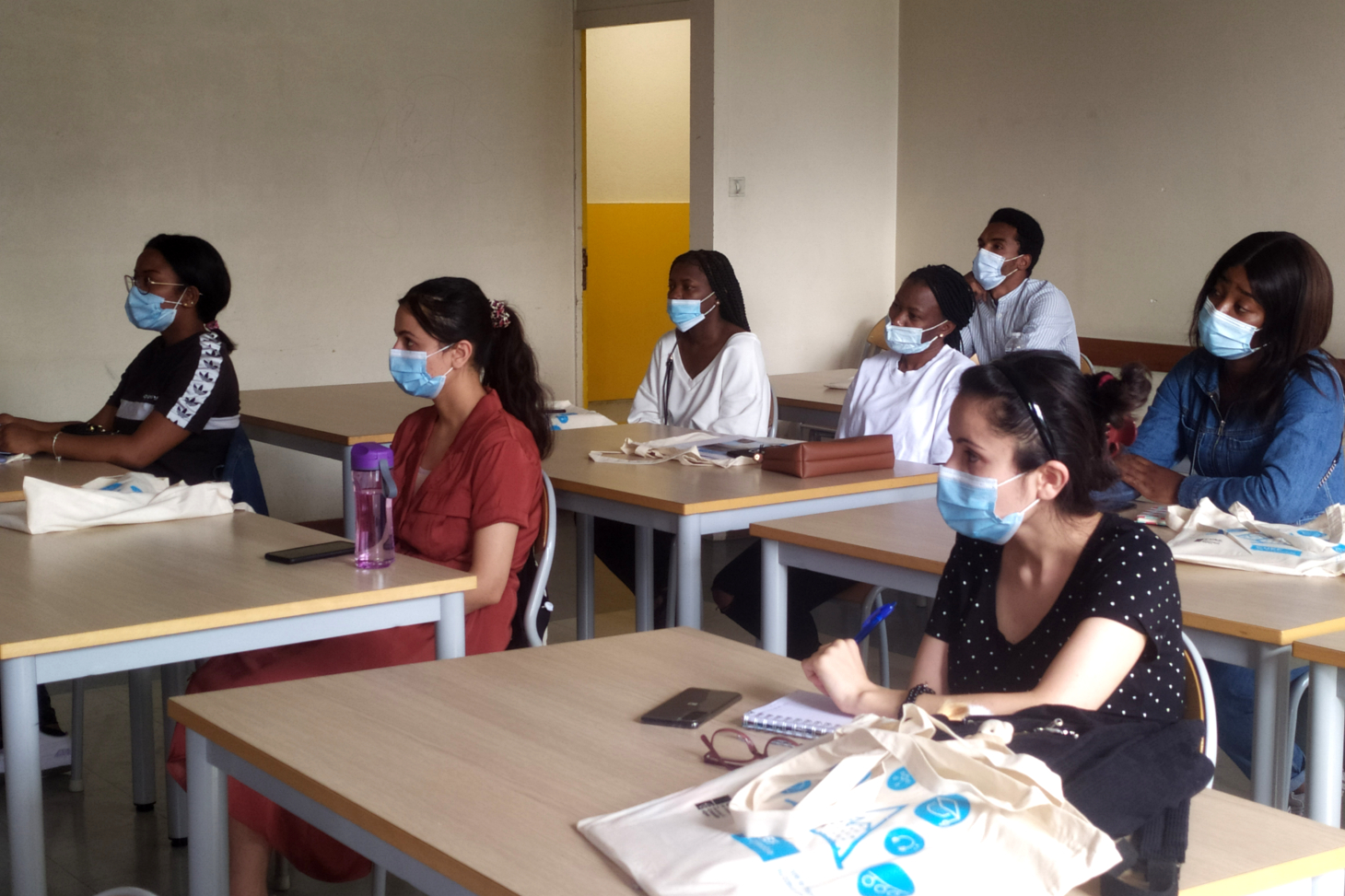 The University Center for French Studies (CUEF) of Université Grenoble Alpes offers a French language course dedicated to students in exile: the DU Pass. Since its creation six years ago, more than a hundred people who were forced to interrupt their studies in their home countries have been able to continue their studies in Grenoble at no cost thanks to the support of numerous partners, including Grenoble Alpes Métropole, the Agence Universitaire de la Francophonie, the Fondation UGA and Université Grenoble Alpes.
"Thanks to the DU Pass courses, I can now speak the language and do all the things I need to do," says Marie-Grâce - 30 years old, married, with one child. Originally from Rwanda, she arrived in France 8 months ago and started the DU Pass in January. Obadah, 21, comes from Syria. He arrived in France 4 months ago and has just started the DU Pass. In 3 weeks he has made such progress that he has gone from B1 to B2 in French and would like to improve further to reach C1 and be able to apply for medical or medical engineering studies in Grenoble. "The general culture, French history and art history courses are really interesting as well as the French for Academic Purposes courses which help us to build our professional project," he says. "I arrived in France 5 years ago and I didn't know that free training existed. I worked when I arrived to be able to pay for French classes," says Mohammed from Yemen, who applied for a Bachelor's degree in Economics. "I've learned a lot since September: vocabulary and grammar, but also how to write a cover letter and a CV," he continues. Mustapha, a Sudanese refugee student, appreciates the theater workshop in addition to the DU courses because it allows him to meet other international students at CUEF. He would like to continue his studies in Sociology or Modern Literature.

These testimonies demonstrate the relevance of this program, which is not limited to French language training but also offers courses on French culture and history, and assistance in the process of enrolling at the university: preparing applications, administrative procedures, writing cover letters, etc.
A DU for people who plan to study in France
The DU Pass is open to individuals who have obtained at least a high school diploma or its equivalent in their country of origin, who have refugee status, are under subsidiary protection or are seeking asylum, and who have a minimum level of French B1 in the classroom, as attested by the level test offered online by CUEF.

"We select people who show real motivation, have a study project in France and the possibility of being housed in Grenoble because there are many face-to-face courses in the DU program. Our objective is to accompany them in their university training project. This DU is nationally recognized since September 2019 and enables refugee students between the ages of 18 and 30 to benefit from CROUS rights," says Sophie Regnat-Ravier, head of the DU Pass.

In order to know and follow the progress of these students and to measure the impact of this training on their life paths, a survey has just been launched on the last three classes by the Training Observatory (DGD Formation).

The capacity of 18 students per semester allows the CUEF to welcome most of the candidates with a suitable project within the DU Pass, knowing that the current geo-political situation may increase the number of requests and make these courses, which have become widespread at the national level, even more essential to support and develop.

Published on May 10, 2022
Updated on May 10, 2022